We made it home safely and all is well. We decided to leave Friday evening and got as far as Northern New Mexico. It was a long haul Saturday, but we were able to make it to church on Sunday morning, so for that we are thankful. We were blessed to worship with our church family and visit with them afterwards during our monthly fellowship dinner. Thank you for all the prayers lifted up on our behalf for our packing, trip home, and for our future. We do not have any information as to where Phillip will be assigned next. We continue to pray for the Lord's faithful guidance and know that He has the very best for us in mind. Meanwhile, I will share thoughts and images of home. Home-home as Laura says...
The Big Oak Tree.
This is the tree from where our swings hang. I was hoping we'd get home before all the leaves fell off but, as you can see, I missed it.
All three cows are present and accounted for, two of which are expecting, bringing our herd to a grand total of FIVE! Woo--hoo....God is building our herd. Seriously. But that's another post for another time. This is Laura with Helen.
This is our newest addition. Her name is Patch. She was thought to be a bull at first, so the name stuck. To give it a bit of feminine flare we add a 'y' at the end. How's that for simple?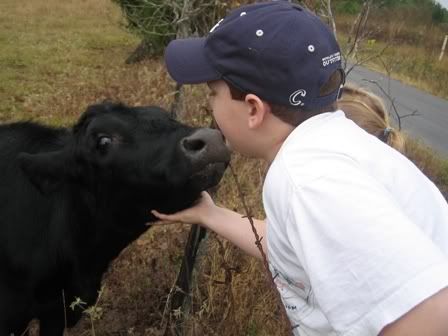 They were so happy to see us. Yes, they know us. As soon as we stopped the truck and got out Bess, the mama to the other two, briskly walked toward us with Patchy following. We haven't had the opportunity to handle Patch very often so she's a bit skiddish. Eventually, our "wild child", Helen, showed up. She was Bess' first calf. She never stays in her own pasture and even when Phillip and Douglas work all weekend to mend and fortify the fence, she still finds an escape route into the neighboring pasture. It's been frustrating, but also pretty comical.
Blessings to you from Texas ~