I shutter to think about the times she's probably looked up to me - The times she's actually taken that "oh-so wise Big Sister advice" when all the while, in so many ways, she's been more level-headed than I ever thought about being. She's one of those middles, you know the type - balanced, steady. There's so many things I admire about her - many things she doesn't even see in herself.
When we were little, she and I would play school all the live-long day. Mother boasts to this day about her singing the ABC's and knowing how to add and subtract before she was three. By the time she'd reached the age to finally attend real school, Montesorri kindergarten was absolutely boring. Things got harder, though, as she diligently trudged through a tough nursing school program during her college years. Today, she has blossomed into an accomplished, mature, beautiful woman who loves the Lord.
When I called this morning to send her birthday wishes, I discovered she'll be in our neck of the woods this evening on business. (yay!) We plan to meet her for a birthday dinner. Oh, will the kids be ever so excited when they hear the news!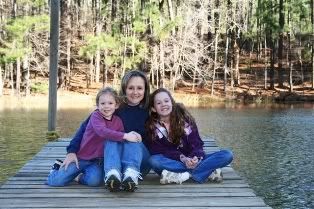 She's pictured here with my girls, who love her so dearly.
Happy Birthday Jocelyn
You are loved....