It's a gorgeous day in East Texas and we've been out basking in it. We went for a nature walk to check on a bird's nest we discovered the other day. Sarah determined it was an old one so we decided to snatch it for a collection we're starting. As we walked, we decided to make pinecone bird feeders when we got back. I took a few pictures for fun and thought I'd share the process. So many of us with older ones can tend to focus so much of our time on academics, schedules, and for some even college fills our spare time, but don't forget the little ones if you still have some. We made these all the time when Sarah and Douglas were younger - not so much with Laura. She kept saying over and over...
"THIS is F-U-N!".
~*~*~*~*~*~
Here's what you need:
Peanut Butter (creamy or crunchy), birdseed, pinecones, string or yarn, a pan, and a rubber spatula.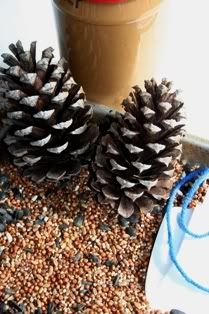 First, tie the string to the top of the pinecone.
Pour some birdseed into a pan (or bowl).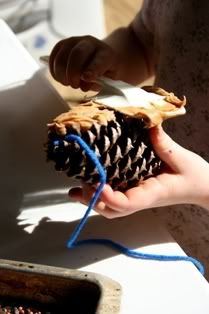 Using a rubber spatula, spread the peanut butter all over a pinecone. Don't worry about getting it into every crevice, just give it a good coating.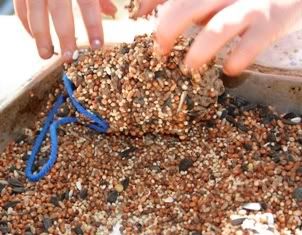 Next, roll the pinecone into the birdseed. I usually take some in my hand and press the seed into the pinecone making sure it's completely covered.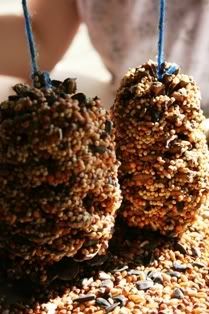 And there you have it! Pinecone Bird Feeders.