I've been over at my other blog moving old posts over here and found this one today. This post was written on October 20th, 2006 when we spent Christmas in California. We stopped by the Grand Canyon on the way out.
~*~*~*~*~*~
I love this picture of the Grand Canyon. There is a tiny view of the Colorado River that runs through the canyon in this picture. You'll have to write me if you see it. It's a teensy dark green speck about an inch and a half from the right edge of the picture.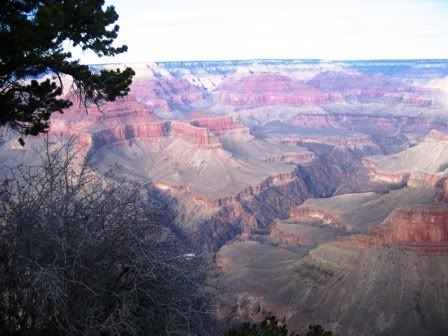 We decorated a tiny "hotel" Christmas tree this evening. I think we're getting into the Christmas spirit. Tomorrow, we'll put together a gingerbread house and Lord willing, we hope to start some Christmas shopping soon. The latest Christmas CD by Jim Brickman was on sale at Target so I bought myself an early birthday gift. I was so disappointed when I discovered I'd forgotten our Christmas music~ we were too far down the road to go back, but then I realized that I'd have a great opportunity to add to my collection. I haven't done that in quite a while.
As is our tradition most all year 'round, Phillip is telling the kids a deer hunting story. I don't believe he'll ever run out of stories; he's got over 30 years of memories tucked away in his heart. Deer hunting and the ranch is such a blessed memory for him. I hear the joy (and sadness) in his stories. I'm amazed at all he remembers, even as far back as 5 years old. He remembers being too young to go hunting with his older brothers and uncle. Left with the women, he'd play in the yard by himself watching down the road waiting for the guys to show up with a deer. He remembers his uncle's smell, his voice, his words. One of his fondest memories is of Uncle Doc putting logs on the fire in the middle of the night. That man made such an impression on Phillip. It brings tears to my eyes.
My heart is sad for him. The ranch~ it's such a part of him. I pray the Lord will someday give him what he so longs for......