Eleven years ago today, the Lord blessed us with a baby b-o-y just 13 months after our precious firstborn. I fretted over having enough love for both as we were so enamored with Sarah that we felt sure the second would be neglected. (I truly mourned over it during my pregnancy) But then, he was born and our house was filled with tears of joy and love overflowing.
We're celebrating this morning with our traditional Birthday Breakfast. He has requested pancakes. His choice for lunch is tortilla pizzas (super simple!), and for dinner we'll have his all-time fave - grilled hamburgers with homemade french fries. Y-u-m! Friday afternoon, several of his best buddies will be over for the first-time-ever-on-HIS-turf Airsoft war. Needless to say, he's beside himself with excitement. He got a n-i-c-e Airsoft gun from his Aunt & Uncle for Christmas and another with some Christmas money, so he's armed and dangerous. LOL...
He lightens the world with his infectious smile.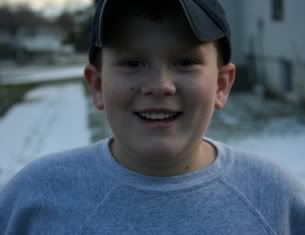 Thanks for making me laugh, sweet boy.
I love you ~ Mom